Searching Products
Using this guide, we will be going through how to search for products and the different ways on how to search.
To initialize a search, click on the search icon on the left of the screen as can be seen in the below screenshot.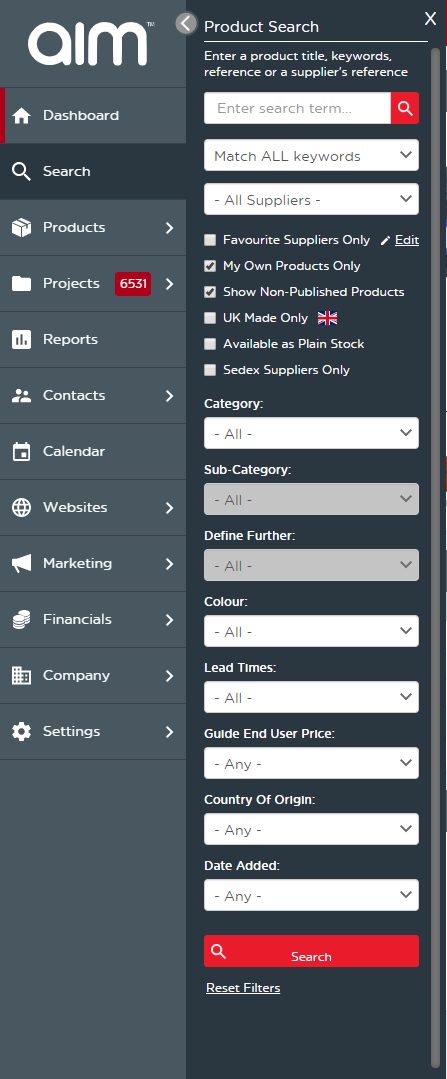 In the advanced search, there are multiple fields you can use to refine your search. Below is an explanation of each field:
Search Box: Here is where you can enter keywords, product names, or reference for the products you are looking for.
Match Filter: You can filter the search by matching all keywords, any keywords, exact phrase or by item number using this section.
Supplier List: If you are looking for a supplier's product, you can filter that by searching for the supplier on this list.
Favourite Suppliers Only: You can limit your product searches to only include your favourite suppliers by ticking this box. You can edit your favourite suppliers by clicking the edit button to the right.
My Own Products Only: Tick this if you want to show the products you have added to the system.
Show Non-Published Products: Tick this to show the products you have added, but not yet published to your system/website.
UK Made Only: This will show you products from UK based suppliers.
Available as Plain Stock: This option will show you only items that are available to purchase in
plain stock.
Sedex Suppliers Only:
Category: Choose to filter your search by main category here.
Sub-Category: Select a subcategory you would like to filter by, this can only be selected if you have a main category applied.
Define Further: Select a third level category, this can only be selected if you have a main and a subcategory chosen.
Colour: Select this option if you are looking for a product with a particular colour.
Lead Times: If you need to meet a certain deadline, using this option you can search by lead
time.
Guide End User Price: Using this option, you can select a guide price for the products you are searching for so you can make sure your quotes go out on a budget.
Country of Origin: Use this option to define the country that your product originates from.
Date Added: Search for the latest products by using this filter.
Reset filters: Using this option you will be able to reset any filters you have used for your search.